Every massage is as unique as the professional who gives it and the individual who receives it. What one person finds relaxing, another may find irritating. Some people get massages to de-stress, while others get it as a form of physical therapy. Hence, there is no one-size-fits-all massage therapist. Rather, each practitioner brings their unique style to the massage table. 
The key to a positive massage session, whether you're just trying to relax or are an athlete who has to fit massage into your everyday routine, is knowing how to select a massage service that can cater to your specific needs. Choose a therapist who will pay attention to your needs before, during, and after the massage.
Selecting a reputable massage service is easier than you think. You just need to make sure you've done your homework, and everything else will eventually fall into place. Remember that if the massage goes wrong, it could cause stress and even physical injury, so it's crucial to ensure that you pick the right person for the job.
So, let's go over some of the most common questions people have and the factors they should weigh when deciding on a massage service.
Think about why you want a massage
Everyone who gets a massage does it for their own unique reasons. That's why, before diving into how to pick a massage therapist, you should understand your own goals for the massage. Do you just need a way to relax after a tough day at the office? Is there a specific area of your body where you'd like to feel less stress or pain? Do you want a massage for relaxation purposes, or do you need it for medical or therapeutic reasons?
When deciding between different massage techniques, your intentions become crucial. There are several kinds of massage, each designed to treat a particular issue. It is important to find a massage therapist qualified to meet your specific needs, as they undergo training in various massage methods and techniques.
If you're getting a massage as a form of physical therapy while you're healing from an injury, choose a massage therapist who focuses on physical rehabilitation. On the other hand, if your primary goal is simply to relax and reduce overall levels of stress, you can consult any reliable massage therapist in your area.
Find out about different massage techniques
Every massage therapist receives an education in various types of bodywork. There are up to 300 different kinds of these techniques, but the most common ones deep-tissue massage, Japanese massage, Chinese massage, and sports massage. Each of these techniques has its own area of focus, so understanding what each one is for will help you select the best massage therapist for your needs:
Deep tissue massage
A skilled massage therapist will use deep tissue massage techniques to target tense and aching muscles and connective tissue. These focus on the deeper levels of muscle and fibrous tissue to alleviate knots (areas of stress inside the muscle fiber) and other issues.
Massage therapists will utilize slow, strong, more powerful strokes to alleviate the discomfort caused by repeated strain, issues with posture, injuries, and stiff muscles. They may even use essential oils to improve friction. A good deep tissue massage shouldn't be painful despite the deeper pressure and longer strokes. This kind of massage is beneficial for stress-based wounds, chronic pain, and mobility-limiting joint pain.
Sports massage
Sports massages target specific muscles and stimulate the athlete's connective tissue to improve performance. They focus on the needs of athletes and physically active people with the goals of avoiding and healing injuries, alleviating muscle discomfort, adjusting muscle imbalances, increasing flexibility, and achieving physical goals.
Sports massage incorporates techniques like quicker strokes, friction, compression, and joint mobility.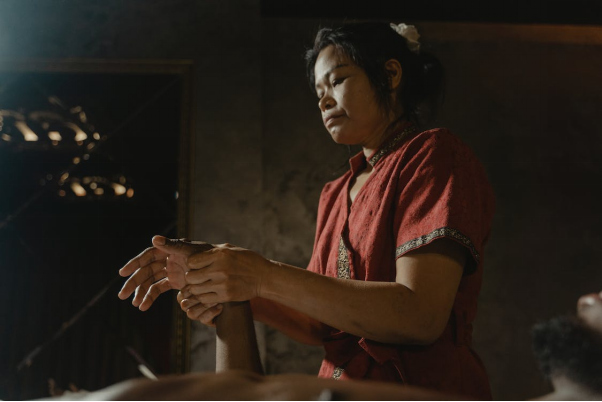 Shiatsu massage
Shiatsu massage is a type of bodywork practiced in Japan with origins in contemporary Chinese medical practice. Shiatsu is the Japanese term for using hand pressure. The massage therapist will apply steady, focused pressure to various points all over the body. It is believed that stimulating these places will help improve energy and bring it back into equilibrium.
Getting a shiatsu massage can help you feel more energized, heal faster from injuries, and kickstart your digestive system, among other benefits. Shiatsu massage is often used to alleviate anxiety and other health complications stemming from stress, and it is good for arthritic pain, sleeplessness, and nasal troubles.
If you just want to relax after a long day, a traditional Asian massage may be just what the doctor ordered. Luckily, several Asian massage services in Las Vegas offer this modality. Some massage therapists, like Asian Massage 2 Hotels, will even bring their services to you. However, if you have chronic pain or discomfort in a specific area of the body, you should seek out a massage therapist who is skilled in deep-tissue massage or another technique designed to relieve muscle tension.
Plan out how you want to be massaged
Once you have established your goals and determined the best massage technique for you, the next step is to think about how you would like to be treated during the massage session. There are several factors to consider, such as the ideal ambiance or atmosphere for your session and the place where you'll be having it.
You can get a massage anywhere from the privacy of your own home to the serene atmosphere of a spa or physiotherapy clinic. Most people looking for a soothing massage session will prefer to call the massage therapist to a location they feel comfortable in. Since a massage can involve stripping down to a towel, clients prefer doing this in a familiar environment like their home or a hotel room.
It is important to let your therapist know what you want before the massage begins. Discuss everything from how much pressure they should exert to anything you're uncomfortable with, e.g., a certain type of touch. Remember, you're in control of deciding how things go. The massage therapist is merely there to help you achieve your massage goals.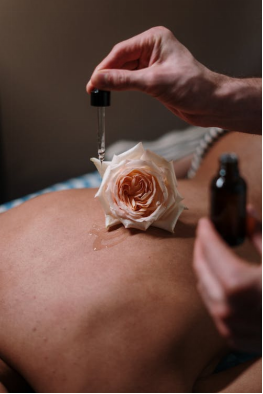 Ask your prospective therapist about their training and credentials
By now, you should have at least one suitable massage professional or service in mind. While looking for a massage therapist, it is always a good idea to find out how long they have been practicing. Inquire about their training and how many massages they have performed since entering the field.
Moreover, if you are interested in a certain modality, it's good to be more direct and specific with your questions. Most states require massage therapists to complete further CPR and first aid education, and certain massage techniques have additional certification requirements. You can use the answers you get to narrow down which massage service to go for.
Maintain open lines of communication with your therapist
Effective communication between you and your therapist is crucial for ensuring that you achieve optimal results from your session. A good massage therapist will pay close attention to your needs and address them before, after, and throughout the massage.
Draping, or covering oneself with a towel (entirely or partially), is essential to a massage. A skilled masseuse or masseur will quickly pick up on how comfortable you are and what pressure you find most relaxing.
You should also let your massage therapist know if the pressure they are applying is too weak or too strong. Every client has their own center of gravity, and every therapist will apply different pressure levels to find what works best for you.  An occasional twinge of pain during a massage may be worth it for the health benefits you reap. However, too much pressure can be painful and cause more stress than relaxation.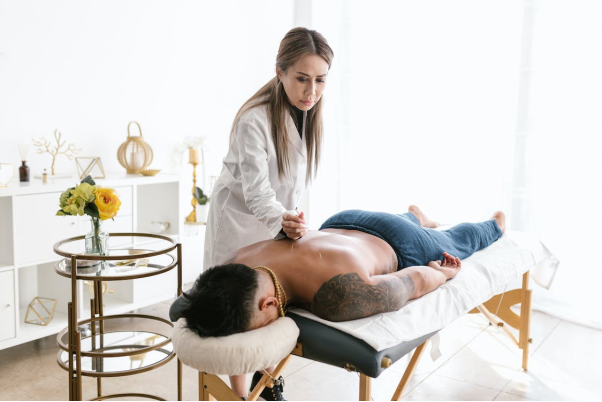 Find out pricing and how everything will work
Before scheduling your first massage, it's important to think through the practicalities and financial aspects of the process. If you have any questions about the massage service's rates or policies, don't hesitate to ask the therapist or the manager directly. Consider factors like how long the massage will take and how much it will cost per session. Massage sessions can range from 30 to 90 minutes, depending on the therapist. You should also find out if the price covers the intake or if that's in addition to the hands-on time. Find out if your health insurance will cover the massage and if any deals or discounts are available.
In addition, some massage therapists and services may charge you more for a certain type of massage or have additional hidden fees. From a practical standpoint, you should inquire whether you need to schedule an appointment or can call them whenever you like. If you plan on getting a more specialized massage, be sure to ask about the right type of clothes you should wear.
Some massage therapists may refuse to do a session without first seeing a prescription for the condition you're seeking treatment for. So, when going to a specialist, you'll also need to carry any relevant medical documentation, including a prescription.
Be sure to show up for your pre-massage evaluation
A good sign that a massage therapist is professional and reliable is when they offer pre-massage consultations. When clients seek out specialized forms of massage like deep-tissue or sports massage, therapists often conduct a consultation beforehand to better understand their needs. During the consultation phase of getting a massage, your therapist may ask you about your health history, lifestyle, and wellness goals.
As you work through the steps of selecting a massage therapist, it's important to be completely open and honest throughout the consultation phase. This is vital if you're going for something more than a simple stress-relieving massage. Moreover, if you show up to your consultation, your therapist will be able to keep tabs on your progress and give you more concrete goals to work toward.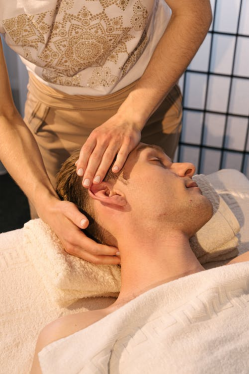 Take after-massage care seriously
Many people who get massages fail to realize how crucial it is to take good care of themselves afterward. Your massage therapist should be knowledgeable enough to realize that you deserve proper follow-up care after each session. In addition to the physical benefits of a massage, you can get emotional and mental well-being from a healthy relationship with your massage therapist.
Depending on your individual preferences, your therapist will provide you with various suggestions for what to do once your massage has concluded. Aromatic baths, essential oils, mindfulness, and drinking plenty of water are just a few examples of what you might do. Massage therapists often recommend self-care practices like these, and if yours is truly skilled, you can be assured that you will feel refreshed and calm after the session. So, when thinking about how to select a massage therapist, it is crucial to keep in mind the importance of after-massage care.
Schedule a traditional Asian massage in Las Vegas
It might be difficult to know what to look for in a massage therapist, but hopefully, this blog has given you some ideas. Authentic Asian massage is what we do best at Asian Massage 2 Hotels, Las Vegas, and we provide it to all the hotels, motels, and resorts in the city. Just give us a call to book our on-demand massage service, and our skilled Asian therapists will arrive at your door in 20 minutes. Forget sitting in traffic or standing in line for long periods to get a massage. All the massage therapists here are exceptional in their own special ways. You can learn more about the therapists' expertise and areas of training by reading their profiles.
Our skilled massage therapists combine traditional techniques from East Asian countries like China, Japan, Korea, Singapore, Taiwan, etc., with cutting-edge massage practices to provide you with the best of both worlds here in Las Vegas. We provide a variety of massage types, including the traditional Chinese style, full body massage, Asian outcall massage, and deep tissue massage.
Contact us right away if you're in the Las Vegas area and want to schedule an appointment.